February 5th, 2011 | Published in conferences | Bookmark on Pinboard.in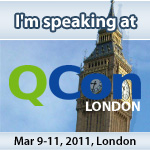 QCon London is coming up fast, March 9-11, and I'll be running the "Functional Web" track there and also speaking in the "When Things Break" track.
You'll save £100 if you use my promotion code, VINO100, when you register for the conference, and in doing so you'll also help me cover my travel costs since the conference will give me an extra £100 when you use my code. (By default the conference covers some, but not all, speaker travel expenses, and my employer doesn't contribute at all to my travel expenses).